Heavy Cylindrical Double Row Roller Bearings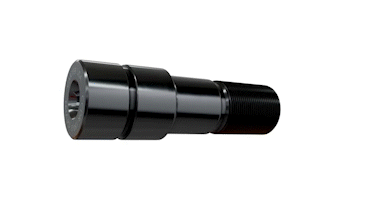 CARTER'S Heavy Cylindrical Roller Bearings (CDR/YDR Series) are interchangeable with standard needle CAM follower designs. They also offer a longer L10 life than standard needle bearing cam followers. Conventional needle roller bearing cam followers rely on outer ring curvature and controlled circumferential clearance for roller guidance. The needle rollers often skew during normal operation, generating unnecessary heat which can lead to premature failure. When compared to standard needle roller bearing cam followers, end-guided cylindrical rollers have the ability to run at lower operating temperatures and higher speeds.
Heavy Cylindrical Roller Bearings are capable of keeping the grease in until re-lube pressure is applied. The two paths of cylindrical rollers create stable outer ring support. The comparatively large diameter of the rollers provides substantially increased dynamic capacity and fatigue life. Heavy Cylindrical Roller Bearings have a VB type lip seals that offer a better seal than a standard needle bearing CAM follower, preventing debris from entering the interior of the bearing. These seals ride on smooth ground surfaces on the stud or inner ring. CARTER'S CDR/YDR is available in stud and yoke type configurations. CARTER standard stock sizes of the CDR/YDR series starts at 1-1/2 inches outside diameter to 4-inch diameter. Other sizing is available upon request, please contact sales department for pricing and delivery timeline.