Standard Needle Bearing Cam Followers and Cam Yoke Rollers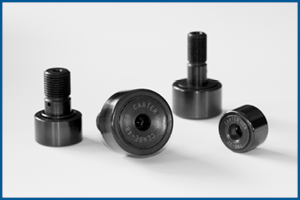 Carter Standard Type bearings are easily mounted and ideally suited for many cam or track roller applications with moderate loading and shock. The bearings are sealed to help prevent contamination and retain lubrication. This Standard Type is recommended for applications where the stud hole can be accurately machined to within +.0000" and -.0005". For other applications where these tolerances cannot be held to these limits, the Eccentric Type is recommended.
The outer race on Carter Cam Followers is high carbon chrome bearing steel thrrough-hardened and ground. The studs and inner races are low carbon alloy steel carburized and induction hardened. A zone hardened raceway leaves the shank end ductile. The needle rollers are high carbon chrome bearing steel through-hardened and ground.
Carter Needle Bearing Cam Followers are available as sealed bearings with a slotted head, a hexagonal socket, or a crowned O.D. We also offer sealed or unsealed needle bearing Cam Yoke Rollers for supporting heavier loads.