Xtenda™ Stainless Steel Cam Followers and Cam Yoke Rollers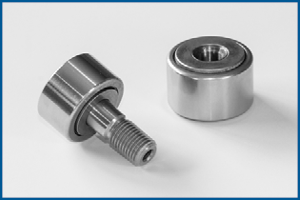 Carter's Xtenda™ series stainless steel needle bearings are available in both standard and custom sizes. You can order cam followers from stock in sizes 1/2" through 2-1/2" and cam yoke rollers from 3/4" through 2-1/2".
All standard Xtenda™ Series bearings are dimensionally interchangeable with standard cam followers and cam yoke rollers offered by other major manufacturers. Carter bearings offer many advantages over other bearings. Our Seal Tight solution minimizes contamination to keep your machinery running longer. We use a food-grade lubricant in our Xtenda™ Series bearings to ensure compatibility with any application, with other lubricants available upon request. Our high precision manufacturing produces a bearing that can minimize expensive shutdowns due to bearing failure.