CARTER can be your solution for discontinued or obsolete bearings.
Over time bearing manufactures phase out some of their bearing lines. At Carter we can be your next supplier of bearings that are still needed in your industry, but no longer available through your previous supplier.
Many of our competitor part numbers already have a crossover to a CARTER Standard part. For cross-reference on part numbers click HERE.
COMPETITOR PART NUMBERS WITHOUT CROSSOVER to a CARTER Standard. No worries, CARTER has you covered! Please contact our Sales Department for inquires on how we create an entirely new part to fit your need or modify one of our standard parts. You'll be surprised at our competitive pricing and fast turnaround!
Quick Lead Times On Special Bearings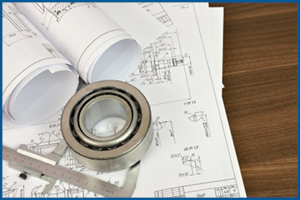 If you have a special application you can count on Carter to deliver the high precision bearings you need, when you need them. Unlike larger bearing manufacturers, Carter specializes in custom bearings so we can respond to your design and scheduling requirements, often at a lower cost. We can modify any of our standard, proven high precision bearings to give you the exact design features you want including:
custom materials and finishes
high/low temperature modifications
special re-lube port options
stud configurations
special laser-etched markings
and more...
Just send us your data, drawings or sketches on the types needed and quantities required - we will promptly send you a quote. We have the capacity to make custom bearings in any quantity, including samples for your evaluation and testing on your equipment. And we make a special effort to supply samples as promptly as possible - at moderate cost. We also have the ability to provide custom etching on any of our products. If you have a special bearing need, contact Carter. We know how to meet all your requirements.
Specials Bearing Application
Let Carter's 50 years of expertise in manufacturing custom bearings help find a solution for you!
To start, download our Special Bearings Application, fill it out with as much detail as possible. The more we know about your specific requirement, the better solution we can provide. After the application worksheet is filled out, email it to our Sales Department and someone will get back with you very soon.
Custom Bearing Gallery
Images